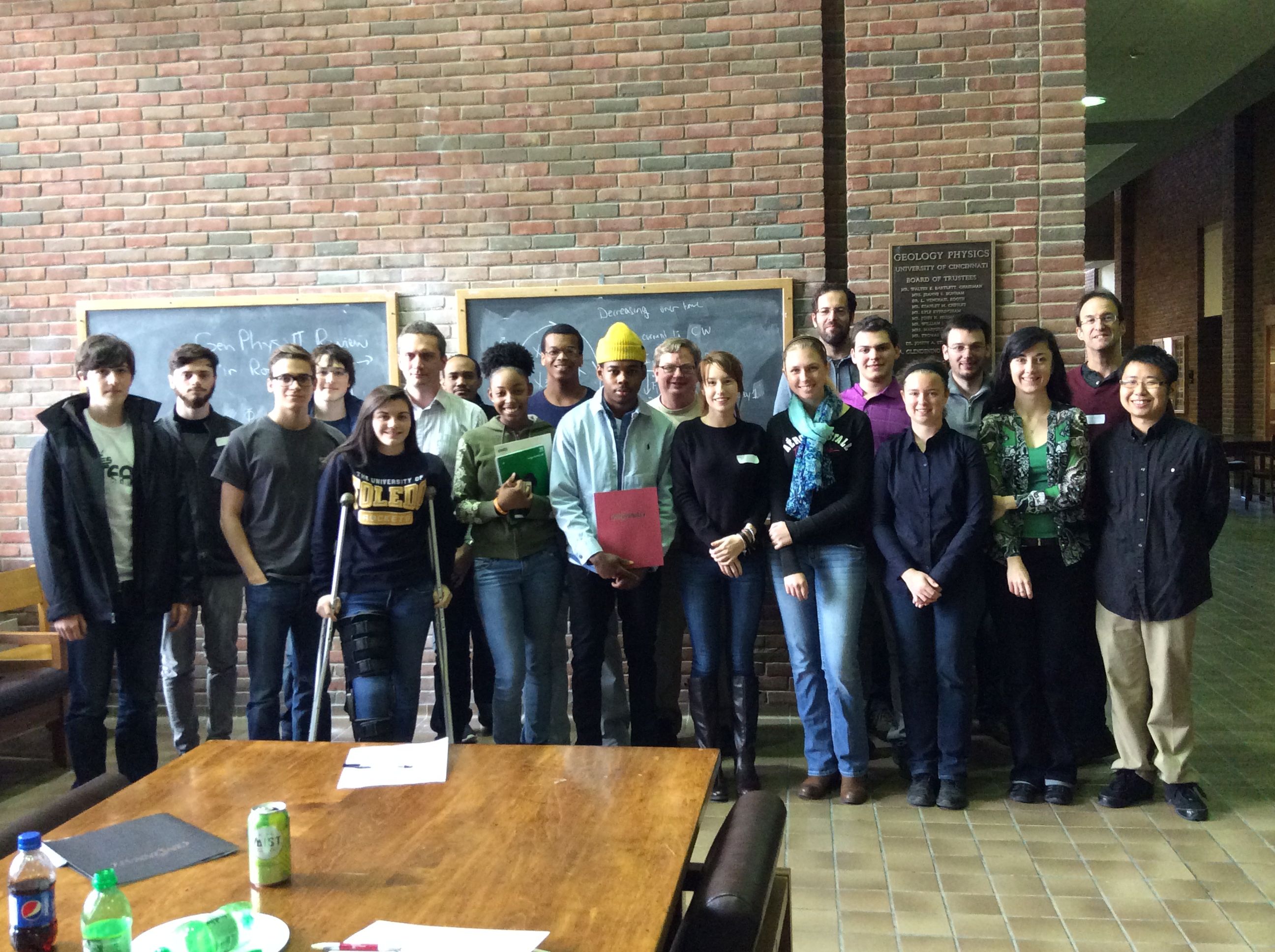 Saturday Physics
Working with your local AAPT chapter to broaden outreach efforts
If you organize a Saturday Physics event at your department, it is often difficult to get a good response from a broad representation of schools in your area. Recently the Department of Physics at the University of Cincinnati engaged with the president of our local American Association of Physics Teachers (AAPT) chapter, which sent out notices by email to the 75 high school teachers who are members of the local chapter. In spite of poor timing—the Saturday for which the event was scheduled came at the end of Spring Break week for half of the schools contacted—we were able to get an extremely diverse group of fifteen high school juniors and seniors (pictured above) to attend the all-day workshop.
Two of the research groups participating in this Saturday event were focused on High Energy Theory, and two groups were focused on Condensed Matter Experiment. Two sessions, one in the morning and one in the afternoon, were each divided equally between High Energy Theory and Condensed Matter Experiment. Each research group was given approximately one hour for presentations and activities, of which they typically used around 40 minutes for presentation and 20 minutes for activities. During lunch all participants sat at a big table, with mixed groups of students and faculty clustered close together, for extended informal discussion.
Notable positive outcomes of this event:
We found that soliciting students through the AAPT yielded extremely good results. The students who came were ready to be engaged and came from a much broader background than was our experience previously, when we had partnered with one or perhaps two schools where we had personal connections.
In part because of the diversity of participants, we found that the conversations during lunch were extremely useful and productive, with many discussions among students who had not met previously.
Challenges we experienced with this event:
Some of the students attended the event because they had a specific interest in either the High Energy Theory or the Condensed Matter Experiment activities. There wasn't much overlap between these two groups, which resulted in mixed reviews. In the future, we will probably focus the Saturday event more narrowly in terms of related subdisciplinary themes.
In their reviews of the event, most of the students expressed a desire for less presentation time and more time for activities in which they were more actively engaged. In the future, we want to shift the allotment of workshop time closer to 1/3 presentations and 2/3 activities.
: Saturday Physics
: understand if I edit this post at any time the content will be resubmitted for review and approval.
: By checking...
SHARE THIS POST: