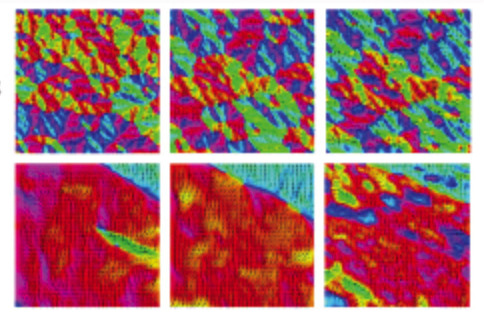 Domains and Disks
Painting with magnets
From the largest stars to the smallest atoms, magnetic fields surround us. Our Earth acts as a huge bar magnet, pulling compass needles to line up with the poles. The tiny magnetic bits in our phones and laptops, and in the large data centers we call "the cloud," enable us to watch movies, listen to endless streams of music, play video games, and work from anywhere.
But magnetism can be beautiful as well as useful! While magnetic fields are invisible, they can be felt by other magnets, and the development of magnetic paint, magnetic nail polish, and magnetic field viewing papers allows us to see, write, and erase magnetic patterns as they respond to magnetic fields.
More specifically, magnetic materials tend to form patterns called domains, which are regions within the material where the direction of the atoms' magnetism is aligned. The featured image shows a variety of magnetic domains over an area roughly equal to the cross section of a human hair, but you can also create domain patterns that are visible to the naked eye! All it takes is magnetic nail polish, a few magnets, and a steady hand!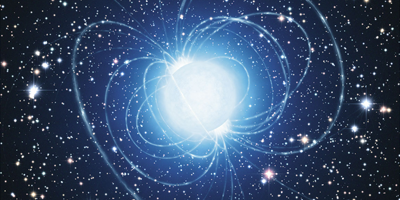 Magnetars are a type of neutron star that produce external magnetic fields a billion times stronger than the most powerful magnets on Earth (source).
Things you'll need:
Magnetic nail gel (we used this Cat Eye Gel, but there are many varieties available)

Variety of magnets-ring, discs, bar, horseshoe magnets or simply refrigerator magnets (see KJ Magnetics, Ace Hardware, etc.)

Paper, aluminum foil and/or a stiff sheet of plastic

Q-tips for clean up and painting

A magnifying lens to see the magnetic domain patterns (optional)
Why it Works
Magnetic nail polish has tiny, black iron particles embedded in the liquid. If there are no magnetic fields around, the particles are evenly distributed in the liquid. When a magnetic field is applied, however, the iron is magnetized, generating a visual pattern as the iron particles concentrate in areas where the magnetic field is strongest. Magnets of different shapes have different patterns of magnetic fields that dictate how the iron particles will move.
To see how scientists are taking the concept of magnetic liquids to the next level, check out the post Ferromagnetic Liquids Take Shape!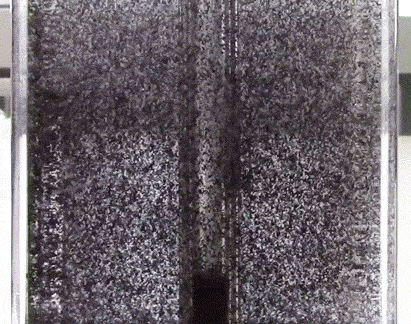 A bar magnet is dropped into a cavity within a container. The container is filled with iron filings that are suspended in fluid. The filings are pulled in by the magnet, showing the 3D magnetic field lines. (source)
SHARE THIS POST: