Honey pours slower than water, but why?
What is Viscosity?
Featured Image: The Sci Guys: Science at Home – SE2 – EP7: Viscosity of Liquids [YouTube].
The term may be unfamiliar, but we all have a sense for viscosity. We often think of it colloquially as the "thickness" of a fluid. It's the property that makes honey pour so differently from water. Fluid dynamicists – scientists and engineers who study how liquids and gases move – tend to think of viscosity in terms of a fluid's resistance to flowing or changing its shape.
To understand how this works in a fluid, it helps to think of an analogy. Imagine you have a deck of cards all in a single stack. If you place your hand on the top of the stack and then slide your hand forward, what happens? The topmost card will slide forward as far as your hand does. The card below that will slide, too, but not quite as far. The third card will slide a little less than the second one, and so on, until you reach a point in the deck where the cards don't slide at all.
When you slid that top card with your hand, you applied what's known as a shear force to the deck of cards, and the way that force was transmitted from one card to the next depended on the amount of friction between cards. Slippery cards will slide more easily than rougher ones.
A fluid works in exactly the same way. If you sandwich a fluid between two surfaces and then slide one of those surfaces, the fluid immediately next to the moving surface will slide with it due to friction. Then, because the fluid has viscosity – just like the cards have friction – the fluid a little further away from the moving wall will slide, too, but not as far as the wall does. As with the deck of cards, the effect will eventually end; after all, friction between the unmoving surface and the fluid next to it demands that that fluid not move. And just as slippery cards transmit that sliding force more easily than rough ones, a fluid with a low viscosity will flow more easily than one with a high viscosity. In other words, a fluid with a high viscosity – like honey – resists flowing more than one with a low viscosity – like water. Some exotic fluids like liquid helium have zero viscosity and will flow forever; these are called superfluids.
Ultimately, viscosity comes from the interactions between molecules inside a fluid, but, practically speaking, we rarely look at those interactions when determining viscosity. Instead, scientists use an instrument called a rheometer, which does experiments somewhat similar to our deck of cards. A layer of fluid is pressed between two surfaces, and then the machine moves one of those surfaces relative to the other and measures how the fluid deforms.
But the results aren't always simple. Some fluids – think cake batter, shampoo, or even oobleck – are very complicated in the way they respond to forces. They can't be described by a single number labeled viscosity. Instead, these so-called "non-Newtonian fluids" have complex descriptions to match their complex behavior. But that's a topic for another post!

Fig. 1 (Click to enlarge). Our deck of cards, pre- (left) and post-slide (right). Notice how the cards near the top of the deck generally move much farther with the slide than cards closer to the bottom of the deck. In a fluid, viscosity also transmits force gradually, just as friction did between individual cards. Photos by Nicole Sharp.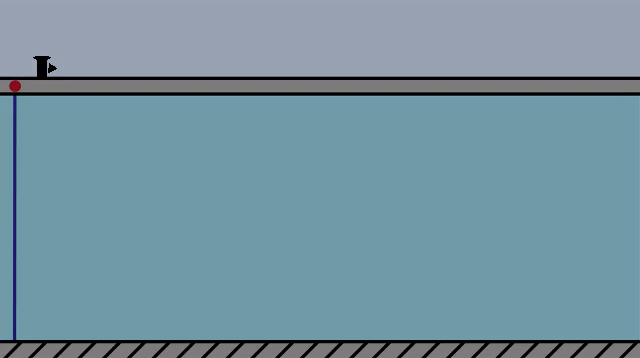 Fig. 2 (Click to enlarge). Here we see a fluid sandwiched between two flat plates. The bottom plate is stationary, but the top plate begins moving to the right. As it moves, friction between the plate and fluid drags the fluid touching the moving plate with it. Slowly, every layer of the fluid starts responding to the top plate's motion. It's the viscosity of the fluid that controls how readily the fluid responds. Animation by Nicole Sharp.
SHARE THIS POST: