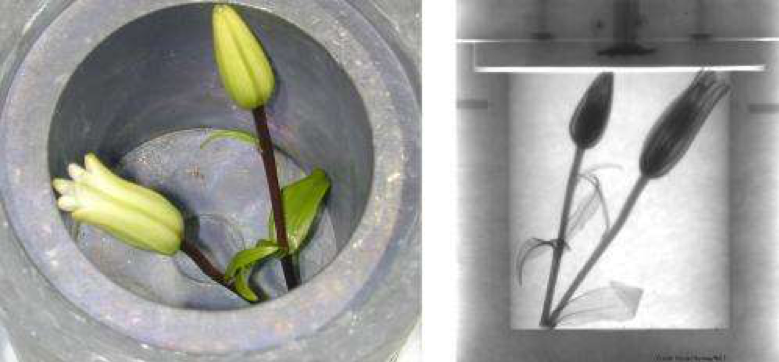 Neutron scattering
Neutrons for Nanoscience!
When we examine the world around us, we observe its structure, or where things are, as well as its dynamics, or how things move and interact. Our favorite probe for investigating everyday objects is visible light, which bounces off objects and enters our eyes. Physicists call this process scattering, and it means very much what it sounds like: bombarding samples with a beam of particles and looking at what comes out.
Likewise, when we investigate a new material, we want to understand its structure and dynamics—where the atoms and molecules are, and what they are doing. To accomplish this, we need measurement techniques that can tell us what is happening at the nanoscale. We can't use visible light when working with funsize materials, because its wavelength is soooo much longer than the distance between atoms—hundreds of times too long, in fact! Even the very best optical microscope couldn't zoom in on individual atoms. In order to scatter effectively from the structure, we need a probe that is roughly the same size as the structure itself. Think of how water waves interact with tiny pebbles: huge ocean waves won't be affected by these pebbles, but small ripples in a lake will scatter around them. To study most materials, we need a probe with a wavelength around a nanometer, or one millionth of a millimeter. For reference, a sheet of paper is about 100,000 nanometers thick!
So what probes can we use to study the nanostructure of materials? X-rays are light waves with very short wavelengths—in the 0.01 to 10 nanometer range—and they are often used to study the smallest structures in detail. When x-rays encounter a group of atoms, it is the electrons of the atoms that cause the x-rays to scatter. The more electrons an atom has, the more the x-rays will scatter. This means x-rays are much more sensitive to heavy elements with more electrons, and they aren't very useful for studying systems with lighter elements. In particular, x-rays are blind to hydrogen, the lightest of all elements, which is an important component of biological materials.
Another option is to use a quantum particle, like an electron or a neutron. While we usually think of these entities as particles, quantum mechanics tells us that they also behave like waves, and they can have a wavelength in the same range as that of x-rays. In Fig. 1, we see bright spots in a square pattern produced by neutrons scattered from a cubic crystal. The spacing between the brightest spots is related to the spacing of atoms in the crystal, but the relationship is an inverse one—in other words, the smaller the spacing between the atoms, the larger the spacing between the spots. (To understand why this is the case, try the activity "Use a laser pointer to measure the thickness of your hair!")
Neutrons also have some unique properties that let them "see" things x-rays and electrons cannot. Rather than interacting with the electrons in the material we're investigating, neutrons bounce off the nuclei of atoms. Neutrons scatter strongly from many light elements. Fig. 2 shows how large the atoms of various elements appear to neutrons and to x-rays—note that hydrogen is almost invisible to x-rays but looms large for neutrons! This makes neutrons perfect for studying important biological molecules like myoglobin, a protein that provides oxygen to muscles (Fig. 3).
X-rays can't travel very far through heavy matter (e.g. lead) without being stopped. Neutrons, on the other hand, interact only weakly with any material. In fact, most neutrons pass through objects without interacting at all. This means neutrons can probe inside materials better than x-rays can. Fig. 4 shows a neutron image of flowers in a lead vase. Neutrons penetrate easily through the lead container and clearly show the biological materials inside. This technique is particularly attractive in fields like archaeology or paleontology, where samples—for example, dinosaur fossils encased in rock—may be too old or valuable to use more destructive techniques to investigate.
Another striking advantage neutrons have over x-rays is in that each neutron is like a tiny bar magnet, with a north and a south pole. Playing with a pair of bar magnets, you'll notice that when you bring them close, they push and pull at each other. At the atomic level, neutrons interact in much the same way, helping scientists to understand how and why interesting magnetic materials act the way they do. The complex and beautiful picture in Fig. 5 is produced by a spin ice, a material with a complex magnetic pattern. While x-ray scattering only shows where the atoms are located, magnetic neutron scattering reveals how the magnetic poles of the atoms are oriented and arranged.
SHARE THIS POST: